Free Website Tools to Monitor Law Firm Websites: In this "Law Firm Entrepreneur" article we explore what the best free website analytics tools are to monitor & track the performance of your law firms website. Learn how to get better results and traffic from your law firms website.
Why You Need Website Tools to Monitor Law Firm Website
Web traffic monitoring should be a top priority in gaining an insight into how much traction your website and online marketing is working for your business. You have to determine the incoming traffic on your website and where that traffic is coming from. Once you understand your user habits, you can definitely increase your client list by scaling up the traffic sources that delivers the most amount of traffic to your law firms website and then take it to the next level to assess which traffic sources are delivering website visitors that best convert into paying clients. Some important aspects that you need to monitor would include:
Why visitors are coming to your website;
Where your visitors are coming from;
How much time it takes for your visitors to navigate your website;
Which pages are most viewed;
What pages visitors usually go to; and
Are there pages on your site with valuable content, but that attract very few visitors.
This crucial information can help optimize your website performance.
As you build traffic, you need to monitor which techniques work for you and which do not. This is where tracking programs come in handy – you can see what is working, and focus on improving what is not or alternatively putting more resources into what is successfully turning visitors into paying clients so that you can create more potency in this area of online marketing.
You should arm yourself with a statistics and tracking programs to improve your growth on the web. It can supply you with vital information that will help you increase your traffic, understand your visitors' needs and generate more revenue for your law firm!
There are many type of programs on the internet that will allow you to monitor the traffic that comes to your firms website, some of these programs are paid and others are free. Below we will take a look at some of the best online website analytics programs that you can get to successfully monitor your website.
The following are examples of FREE statistics programs answering the attorney's marketing needs.
Google Analytics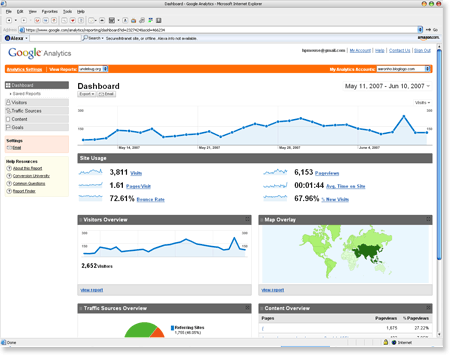 Google Analytics is more suited for the user who has a bit more experience in website design and structure. This software offers Advertising ROI (Return on Investment), Cross Channel and Multimedia Tracking, Customized Reporting, Sharing and Communicating, and Visualizing Data, all with Google Integration and Reliability.
It's part of a suite of products that work together for Analysis and Optimization, Advertising, and Commerce and Enterprise Search.
Although more complicated than StatCounter, Google Analytics is a valuable tool for analyzing traffic on your website and offers a great deal more than just analysis. Google Analytics should be a must for anyone who wants to monitor traffic to their website regardless of whether you use other paid or free web traffic monitoring tools.
You can certainly look around at other web traffic monitoring platforms but I would strongly suggest that what ever you do you should definitely set up a Google Analytics account, it is the most well known and used platform out there with incredibly powerful features and information.
In short Google Analytics is a must!!
StatCounter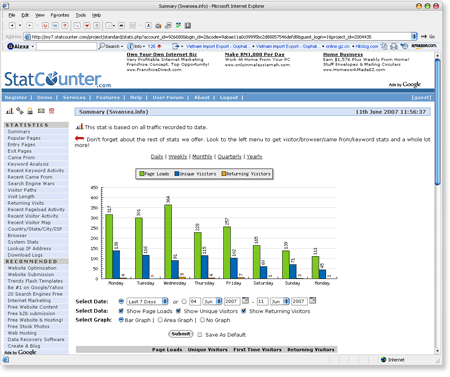 StatCounter is a good choice for a novice who is not very familiar with how websites work or their design. This company provides an invisible web tracker, a configurable hit counter and web statistics with detailed visitor tracking and analysis in real time. You can choose whether you would like your hit counter to be visible or not.
The free option is limited to 100 pages of counting and is aimed at websites with 250,000 pageloads per month, or less. You receive a Project code and log space. You insert the simple piece of code on your web page and it allows you to analyze and monitor all the visitors to your website in real-time.
AWStats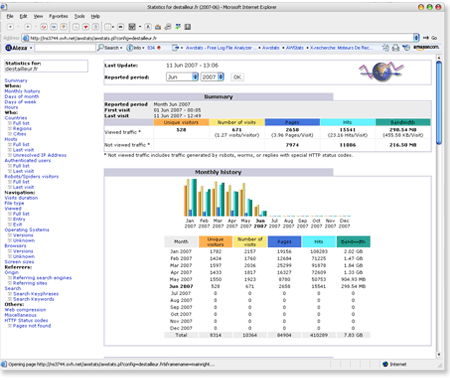 If you are a more advanced user, AWStats may be the program for you. It stands for Advanced Web Statistics. This software tool is a log analyzer which generates advanced web, ftp, mail and streaming server statistics reports based on the data contained in server logs. The data is presented graphically in easy to read web pages. AWStats works from the operating system command line, but it can also be run through a web browser CGI (common gateway interface). It can work with all web hosting providers which allow Perl, CGI and log access.
AWStats software captures a great deal of statistical information including, but not limited to, the following:
Number of visits and number of unique visitors;
Visits duration and last visits;
Authenticated users and last authenticated visits;
Days of wee and rush hours;
Domains/countries of hosts visitors
Host list, last visits and unresolved OP address list;
Most viewed, entry and exit pages;
Files type;
Browsers used;
Search engines, keyphrases and keywords used to find your sight;
Number of times your site is added to favorites bookmarks;
Other personalized reports; and much more.
If you are looking for a dependable program you should give AWStats a try. It will give you outstanding information about your website traffic.
More Online Platforms for Analysing Web Statistics
There are many different types of online platforms out there in Internet land that will offer you the ability to analyse the statistics surrounding the amount and quality of web traffic that comes to your law firms website. Generally the difference between these platforms are the different features that they offer and the different visual interfaces that they offer. Some platforms offer better features and more attractive or easy to understand visual interfaces. But at the end of the day the important thing is to know how much traffic you are getting, where it is coming from, the quality of the traffic and other more technical features which will be useful in tracking specific marketing campaigns.
Above we have mentioned Google Analytics, StatCounter and AWStats but you should know that there are many other platforms out there that have different features as well, some of these other platforms are free and paid premium, they include:
Wrap Up & What You Need
At the end of the day you need to be able to assess the continual performance of your law firms website. Working as a Law Firm Entrepreneur you will quickly learn that your law firms website is one of your businesses major assets and it should obtain a huge amount of effort in building its authority, content and marketing. Simply put you NEED to know exactly how your firms website is performing and where it can be improved and to do this you MUST use some sort of web traffic analysis platform.
Generally, you will find all you need with Google Analytics since beginners can learn the basics of how to use it pretty quickly but experts also use Google Analytics and its far more advanced features.
For beginner you may also want to look at using a more easy to understand and novice type of platform to get you started. On the flip side if you are a more advanced webmaster then other platforms such as CrazyEgg heat maps and Feedburner can be a great additional tool to use to monitor the traffic to your website.
Since Google Analytics is such an essential (and free) tool to use we would encourage all people to get a Google Analytics account and get started with it today. We look at a more in depth look at Google Analytics and the features you can use with it in the following post – Insight into Google Analytics for Lawyers.
We welcome comments from you below highlighting any good or bad experiences you have had with various platforms in relation to Website Tools to Monitor Law Firm Website.
Get The Latest Tips & Tools To Build Your Client List
We value your privacy & would never spam you
For more information on Website Tools to Monitor Law Firm Website or how to startup a new law firm or build & marketing an existing law practice into thriving profitable legal business.
Free Website Tools to Monitor Law Firm Websites
by
Josh